Platform
Bodidata® offers simple, safe and accurate size-matching solutions to help our partners dramatically reduce returns, while improving wearer satisfaction. Our solutions improve profits by replacing traditional, costly manual processes.
Reduced returns dramatically decrease landfill waste, emissions, water usage, and the other natural resources used to replace destroyed returns.
Built with you in mind
Bodidata® solutions are easily accessed online or using the Bodidata® mobile app.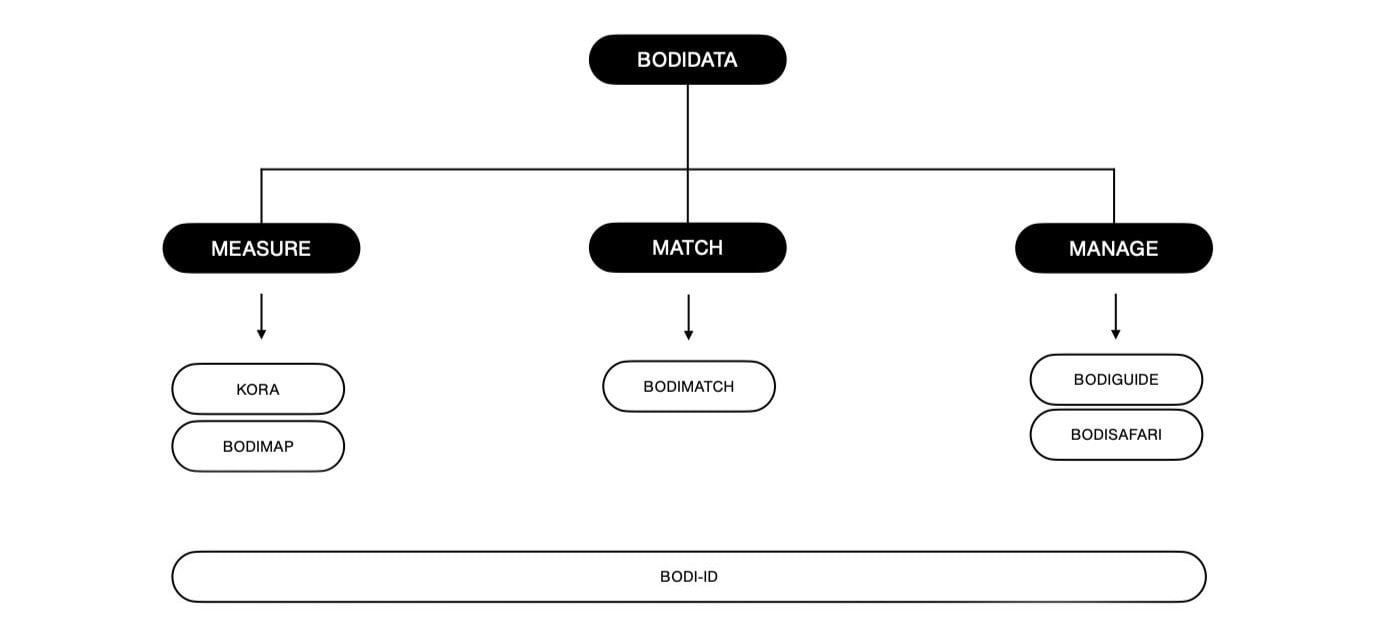 Measure Accurately.
Bodidata® offers every available mobile handheld measurement technology including Kora™, the only handheld technology that measures the body of a fully clothed individual in streetwear.
Bodidata® offers every measurement solution for every business need, whether online or in person.
Match Skillfully.
Bodidata® has the best in class understanding of how each unique style transforms into a 3D piece of clothing and how that product will fit each different body.
Bodimatch® provides wearers with a granular understanding of how the recommended size for each ready-to-wear clothing item will fit critical parts of their body to ensure they knowledgeably select the right size.
Bodimatch® matches each individual's unique body shape and measurements to the optimal size using our style taxonomy of detailed clothing specifications, fabric elasticity, movement, function, visual appearance standards and wearer preference.


Manage Wearer Expectations.
Before and after receiving their selection, Bodiguide™ interactively helps wearers review the quality of fit for the new ready-to-wear item so they understand that they have received the best size for their unique body shape.
Bodiguide™ helps you build loyal relationships with your customers and maintain a connection, while reducing returns and improving customer intimacy. Bodiguide™ provides customers with fit and sizing support, styling guides and branded content.
Bodiguide™ is available online and as a feature on the Bodidata® mobile app.
Support Sustainability
Learn how our sizing technologies impact the resources used to replace destroyed returns.
Decrease landfill waste

Unnecessary returns are often discarded and not reused. This is not a sustainable business model.

Decrease emissions

Whether in production or logistics, every piece of clothing has an environmental impact and should not go to waste unused.

Decrease water usage

Our water is scarce. Textile production requires significant amounts of water. Let every piece last the intended lifetime.
See how our platform is used
How are our customers using the Bodidata solutions. Whether you're in the uniform or retail space, we have the best solution for you.